OMG!!!! I'm back! It's been such a long time! For mother's day I decided to make a coconut angel cake using my new bunt pan. A bit of it came off while I was taking the cake out of the pan and it was really good. What I'm going to do is give you guys the basic angel cake recipe then tell you how you can add stuff to the cake. Also, you've been warned, if you don't like sifting, don't do this cake. Here's the angel cake recipe:
1 cup cake flour
1 1/2 cups sugar
1/2 tsp salt
1 1/2 cups cold egg whites (about 12 large egg whites)
1 tbsp water
1 tbsp lemon juice
1 tsp cream of tartar
1 tsp vanilla
1/4 tsp almond extract (optional)
Sift the flour, 3/4 cup sugar, and salt into a bowl 3 times. Set aside. In a large bowl beat together the egg, water, lemon juice, cream of tartar, and extracts on low speed for 1 minute. Increase the speed to medium and beat until the mix increases in volume 4 1/2 to 5 times and looks like foam. This takes between 1 1/2 and 3 minutes. Gradually beat in the remaining sugar one tablespoon at a time, taking 2 to 3 minutes. When all the sugar has been added keep beating until the mix is glossy white a has soft peaks when the beaters are lifted. Sift about one eight of the flour mix on top of the egg mix then fold in until the flour is almost incorporated. Repeat with the other 7 eighths of the flour mix. Keep on folding the last addition of flour until no traces of flour remain. Bake in an ungreased 9 or 10 inch bunt pan at 350 for 35 to 40 minutes. Cool for 1 1/2 hours.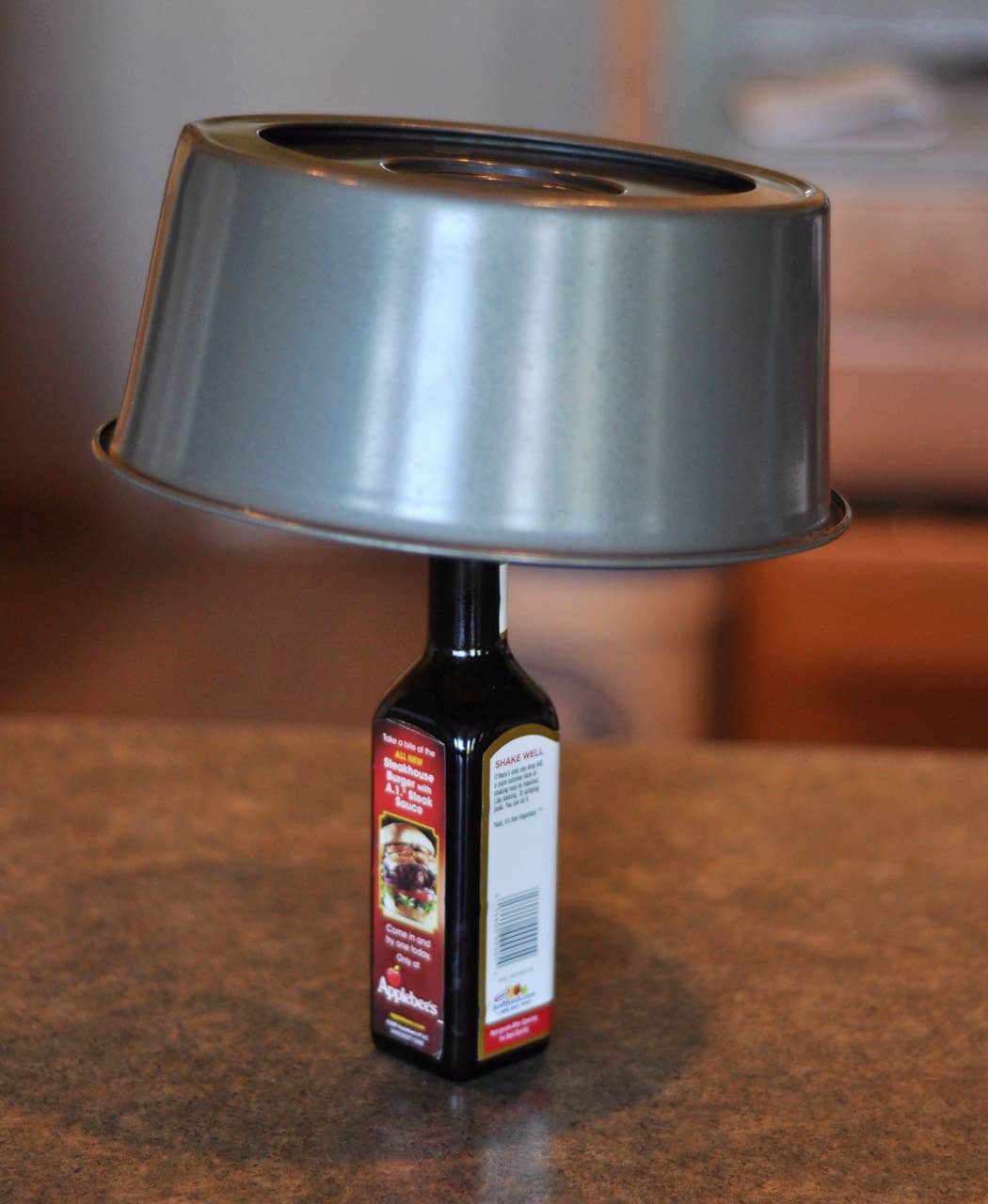 How to cool an angel cake
Now for the variations:
Spiced angel cake: add 1 tsp ground cinnamon, 1/2 tsp ground nutmeg, and 1/4 tsp ground cloves into the flour mix. Sift in with the sugar and salt. Frost with a coffee frosting.
Coffee flecked or flavored angel cake: Crush 3 tbsp of freeze-dried coffee with a rolling pin. sprinkle on top of angel cake once all the flour has been mixed in. Fold in gently. If you want a more consistent replace the water for 3 tbsp of cold extra-strong coffee. Frost with chocolate icing.
Candy angel cake: Crush with a rolling pin enough candy to make 1/3 cup. Fold into the batter with the last addition of flour. Frost with a vanilla frosting to which you can add more crushed candy.
Coconut angel cake: Fold 1/2 cup of shredded sweetened dried coconut to the batter with the last addition of flour. Frost with whipped cream and sprinkle on more shredded coconut.
Lemon or orange angel cake: Take out the almond extract and add in 1 tsp of lemon or orange extract. Stir 1 tsp of lemon zest or 2 tbsp of orange zest into the flour mix. Frost with lemon or orange frosting.
Cocoa angel cake: Take out 1/2 of cake flour and put in 1/2 cup of coca powder. Don't frost.
Nutty angel cake: Fold 3/4 cup of finely ground nuts into the regular or cocoa angel cake.
Extra-chocolate angel cake: Finely chop 1 to 2 oz of semisweet or bittersweet chocolate and fold into the batter of either the regular or cocoa angel cake. Serve with whipped cream.
Marble angel cake: Prepare the regular AND cocoa angel cake alternate the batters in the end. Note: this makes 2 cakes.
WOW! That was a long entry. Happy mother's day guys!
See you next time internet! Love, Alexa :)